COSMO'23

Hotels
Where to stay

On campus, there is only one place to stay, the student residence Residencia Erasmo (1). But availability might be very limited. Also, bear in mind that there are no restaurants (appart from the residence's canteen) open on campus and that last train from the city center leaves at 23:23 from Atocha.


Otherwise, we recommend you to book a hotel near any of the stations of Cercanías train line C4. The station for IFT is "Cantoblanco Unniversidad". From the station it is a 15min walk to the IFT.
Here are all the stations (but please note that the part between Chamartin and Nuevos Ministerios is for the time being closed):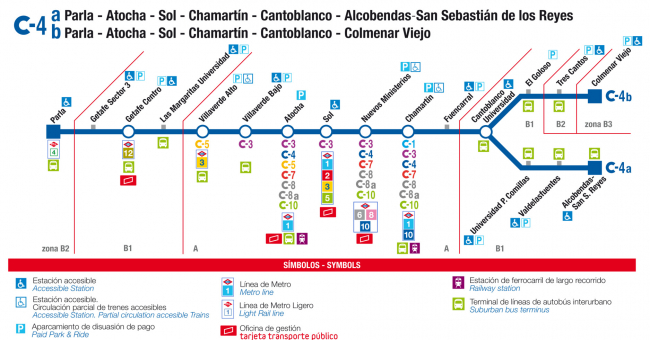 Some tips about areas:

- Chamartin. Closer to campus, but farther from city center (~7km). A bit industrial.
- Nuevos Ministerios. Mid-way between the center (~4km) and the north. Finantial area.
- Sol. The very city center. Many retaurants, shops and bars around. A few landmarks around.
- Atocha. Still quite central, but less busy in terms of bars. Next to retiro park and the art mille.

Beyond train connections:
- Plaza Castilla does not have train, but has a bus (714) to campus (whose stop is closer to IFT). Northern area of Madrid.
- Alcobendas. It is a separate quiter town, maybe OK if you won't be attending the social activities. There is a bus that connects with campus.


___________________________
1) The Residencia Erasmo in the Campus of the Autonoma (~10 min walk from the IFT).
http://www.resainn.com/en/
__________________________________________________________________________________________________________________
Other hotels in the city center you can book on your own. Recommended in previous workshops (might not be too up to date):
[Please check connectivity, specially to the cercanias C-4: Atocha, Sol, Nuevos Ministerios or Chamartín. With the first two being more central.]
- Hotel Mediodia
Location: Plaza Emperador Carlos V 8 (Next to Atocha main train station)
https://www.mediodiahotel.com/en/
- Tryp Gran Vía
Location: Calle Gran Vía, 25
- Tryp Atocha
Location: Calle de Atocha, 83
- NH Atocha
Location: Paseo de la Infanta Isabel 9
- Hotel Petit Palace Arenal
Location: Calle del arenal 16
- Hotel Petit Palace Puerta del Sol
Location: Calle del arenal 4
More information
https://www.petitpalace.com/en/hotels/madrid-centre/puerta-del-sol/
Childcare: Unfortunately, there is no in-situ childcare available during the conference.

IftWorkShops 1.0.01
Workshops Management
© 2012-2013 Institute for Theoretical Physics UAM - CSIC