COSMO'23

Transportation
To be updated in March 2023
This page is meant to give practical instructions on how to get around in general, to your hotel and to the university.
The workshop will be located at the Institute of Theoretical Physics (IFT, UAM-CSIC) at the Cantoblanco Campus of the Universidad Autónoma de Madrid, 20km north of Madrid city centre. Note, however, that there are not restaurants opened at night in campus. Madrid is a safe city to move around in public transportation.

How to get to Madrid




By plane (most viable if not coming from Spain)
Airport
Madrid has one single airport, Madrid-Barajas (MAD), with numerous destinations around the world, and it is among the largest airports in Europe. It has 4 terminals, with T1, T2 and T3 very close one to another and the modern T4 slightly separated. There is a free bus that connects the different terminals.
Airport to the City

Taxi. There is flat-rate of 30€ from the airport to the city center (or back): this is inside the M-30 road (e.g. Atocha, Sol, Nuevos Ministerios, Chamartín), which does not include UAM campus.
Metro. Excluding taxi, this is probably the easiest, most versatile and frecuent. All terminals are connected to the metro line 8, conected to the wide metro network. This connects to the Nuevos Ministerios transportation hub, which has direct trainline to the UAM campus and to metro lines L10 and L6. Single ticket is 5€.

Cercanías Train. Only connected to Terminal 4. Low frecuency. But direct to Chamartín, Nuevos Ministerios or Atocha, where it is a good place to have your hotel. More information here.
Bus. There is a 24h bus to the airport from the city center (Atocha). Single ticket is 5€.
Airport to the UAM campus
Taxi. This will only be 15min, but flat-rate does not apply here.

Bus. Check timetables and trajectory for bus 827 and 828.

Cercanías Train. C-4 train line connects Nuevos Ministerios to UAM. From the Airport you can get to Nuevos Ministerios using the train (C1, C10 from Terminal for) or the metro (L8, from all terminals).

By Train
If you are travelling from elsewhere in mainland Spain, there are many connections with high-speed and conventional trains.
For example, you can connect with Barcelona in 2.5h.
Most trains are operated by Renfe, the national trainline company. But, recently, other low cost companies started operating some of the main lines (avlo, ouigo).
UAM campus
Getting there from the center
Take a Cercanías train
- Take either a train to Colmenar Viejo or Alcobendas-San Sebastián de los Reyes (C4).
- Get out at Cantoblanco Universidad.
Intercity buses
- 714 (Plaza Castilla-UAM - Universidad de Comillas)

A map of the UAM Campus can be found below.
The Instituto de Física Teórica, is the number 41 on the map. The 20 minutes walking route from the train station is indicated with a red line.

The bus to Plaza Castilla stops near the (P) sign next to 36.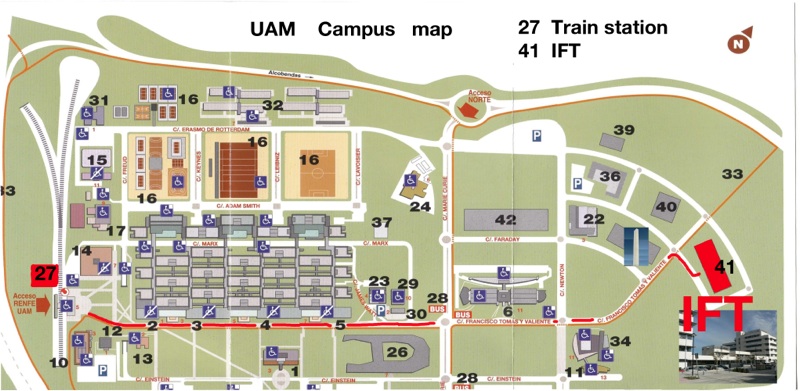 Around the City
Metro:
Madrid has an extensive and convenient metro system (see map) connecting most places in town including the Airport. But it does not reach the UAM campus. You need top purchase a metro transportation card (2.5€), unfortunately, not valid for the cercanías train. Yuo can top this up with single tickets (1.5€-2€), 10x tickects (12.20€), airport ticket (5€) or airport suplement (3€). More information here.


Cercanías Renfe:
Local trains, running regularly within the province of Madrid (see map). You need to buy a paper card, not valid for metro. Tickets can be bought at stations either from a machine (accepting cash, including notes, bank and credit cards) or from a ticket office. There is a zone system, most of the center is in zone 0, the university in B1, the third zone. If staying at the city, a 3-zone 10-Journey ticket is reccomended. Single tickets (for 3 zones) are €1,85 and 10 trip cards €13,70, see here.

Taxis:
Taxi's are numerous and for European standards, reasonably priced.

Buses:
There are two type of buses, the local ones of the EMT (red or blue) and the Interurbanos (green). For the EMT buses you can use the same ticket as the metro. The interurbanos use separate tickets, which can be bought on the bus. Most bus drivers don't like notes bigger than €5.

IftWorkShops 1.0.01
Workshops Management
© 2012-2013 Institute for Theoretical Physics UAM - CSIC